Boat Trips at Evesham
Getting people onto the water, promoting the huge benefits of our beautiful natural environment has always been key to Avon Navigation Trust's (ANT) activities. ANT also needs to raise funds so it can continue its good work. Running passenger vessels ticks all the boxes – great for ANT and great for everyone to experience being on the river and build memories.
In 2023 ANT acquired CORSAIR, a 12 seater luxury passenger vessel. Corsair was previously known as 'Frederick' and is no stranger to running trips on the Avon.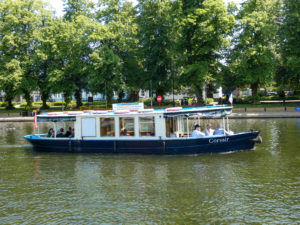 Weekends through the summer CORSAIR will be running from Abbey Park in Evesham. ANT have been working with Wychavon District Council and Evesham Town Council to develop the Evesham Lock House into a training venue and 'bring boating back to Evesham' to offer more pleasure to the public of the beautiful river frontage. CORSAIR does exactly this. Running the trip boat is made possible by using dedicated and skilled ANT volunteers as the team that operates CORSAIR
BOAT TRIP TIMES :
2024 May to September Weekends
1pm boat trip and
3pm boat trip (more on demand)
AUGUST (school holidays) Thursday / Friday / Saturday / Sunday 1pm trip and 3pm trip (more on demand)
Tickets for the return boat trips in Evesham are just £6 per person
The River Trips are c40 minutes.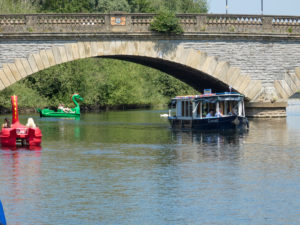 CHARTER CORSAIR
You can also charter CORSIAR. She is perfect for a cruise along the river, with family, friends or work colleagues. All funds go direct to the Avon Navigation Trust to contribute towards administering, maintaining and improving the River Avon . A guide price for a 0ne hour trip (up to 12 people) is £150, or 2 hours is £230. Please contact us with your specific requirements and we will endeavour to accommodate your party. This is all fund raising for the Trust and run by volunteers.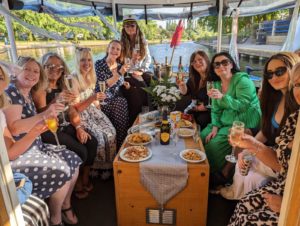 CHARTER Wheelchair accessible 'Wheely boat'
ANT also has a wheelchair accessible Wheelyboat that can be chartered as above to help make cruising the Avon accessible for all. For example, if you have a family member who could not normally access the river or boating activities then the new ANT wheelyboat programme can help. The boat can be chartered with a driver, and in the future we will be offering boat handling tuition courses you could be trained up to take this boat out on your own.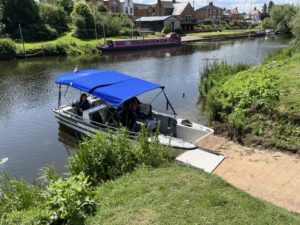 River Festivals
Watch out for ANT at the river festivals, like Evesham and Pershore where trips will take place on a variety of ANT craft – all donations go direct to the Trust.